The department of Mechanical Engineering and Precision Mechanics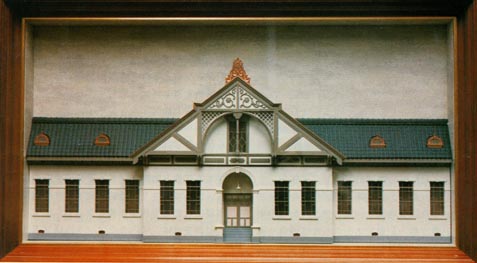 A scale model of the main (common building of former depts. of Mechanical and Civil Engineering ( the southern front)) used between 1898 and 1962. Reduced scale, 1:40.
The structure and style of the building is an impression of Kyoto University in the early days.

When Kyoto Imperial University was founded, the first established Department was Mechanical Engineering. This department purchased educational models, and have effectively preserved them.

The models of machine mechanism are very rare and do not exist in other universities. They are precious collections through which we can understand educational circumstances at the advent of the Dept. of Mechanical Engineering.
A jig borer (prototype of machine tools) has been a foundation stone of Japanese industrial prosperity and a measuring machine has also been preserved.